Tree Surgeon
North Rigton
North Rigton

Tree Surgeon
As a specialist arborist serving clients in North Rigton and the surrounding areas, The Tree Surgeon Harrogate has the skills and expertise required to take care of all your tree surgery needs promptly and to the highest possible standard.
Over the years, our operatives have built up a wealth of knowledge to ensure we can deliver the best possible experience to all our clients. We genuinely believe that we are one of the best tree surgeons in North Rigton and the surrounding areas; we are not only highly experienced but also firm believers in ensuring we are offering first-class customer care at all times.
The services that we offer include the following:
Tree Surgery

Tree Crown Reduction

Pruning

Tree Felling

Hedge Cutting

Stump Grinding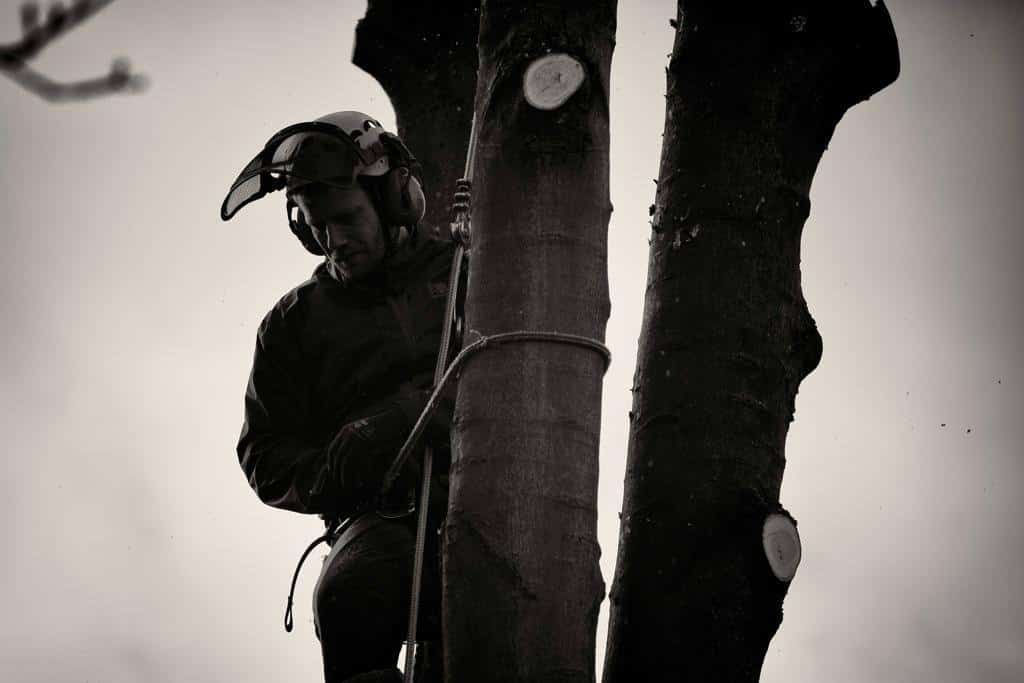 At The Tree Surgeon Harrogate, we always consider our work's impact on the environment and wildlife. Every project we undertake we will ensure that it causes the least disruption, and that your specific needs are met. Tree surgery can also be dangerous, so we will always ensure the actions we take are well planned to prevent any unsafe situations from occurring and unnecessary damage being caused.
There is no denying that finding a reputable tree surgeon can be a challenge, and it is always a good idea to find out as much as possible about the business before committing to their services. At The Tree Surgeon Harrogate, our operatives have a vast array of experience, so you can be sure that you are in safe hands. Our professional approach to all tree works that we undertake allows us to ensure that the job gets done on time and to the highest possible standard.
We work with residential and commercial clients, Tree pruning is one of the most common services that we provide. Pruning is the process of trimming a tree to re-route its growth away from the canopy; there are many advantages to doing this, including making the tree look well balanced, and also reducing some of its weight, and ensuring that the branches are not over stressed.
For any tree to grow healthy, having space around it and checking its overall condition regularly ensures that it will remain in excellent condition and not become a problem that can get out of hand. Whether your tree needs a trim or branch removal, we are here to help. Read on to find out more about our services.
Arborist North Rigton
Specialist Arborist serving clients in North Rigton and the surrounding areas of North Yorkshire
Tree Surgeons
North Rigton

 

Area
The term 'Tree Surgery' covers many different services, and we are dedicated to ensuring that we can offer any of these services that you may require.
Maybe you have a tree that has grown out of control and has now reached a point where the best option is complete removal, or possibly you have an existing stump that is causing an obstruction and requires grinding. Whatever your needs are, The Tree Surgeon Harrogate will be able to take care of them swiftly.
There is no denying that tree surgery can be dangerous, and our main priority is the safety of our customers, operatives, and persons in the surrounding area. We always work following the safest methods possible, and wherever possible, we will ensure that public access does not become blocked while we carry out our work.
Planning is crucial, and trees are often in an awkward position, such as close to a property or overhead power line. Still, we will ensure that the services we are providing is causing the least disruption while also protecting the condition of your tree, plus your property and the surrounding area.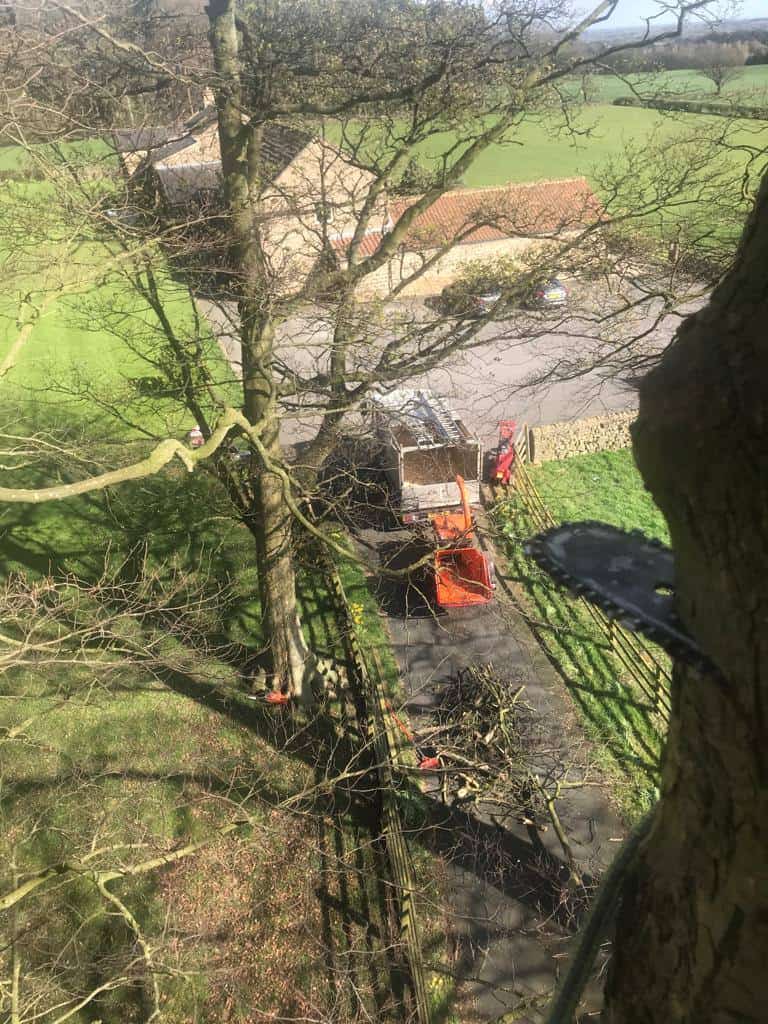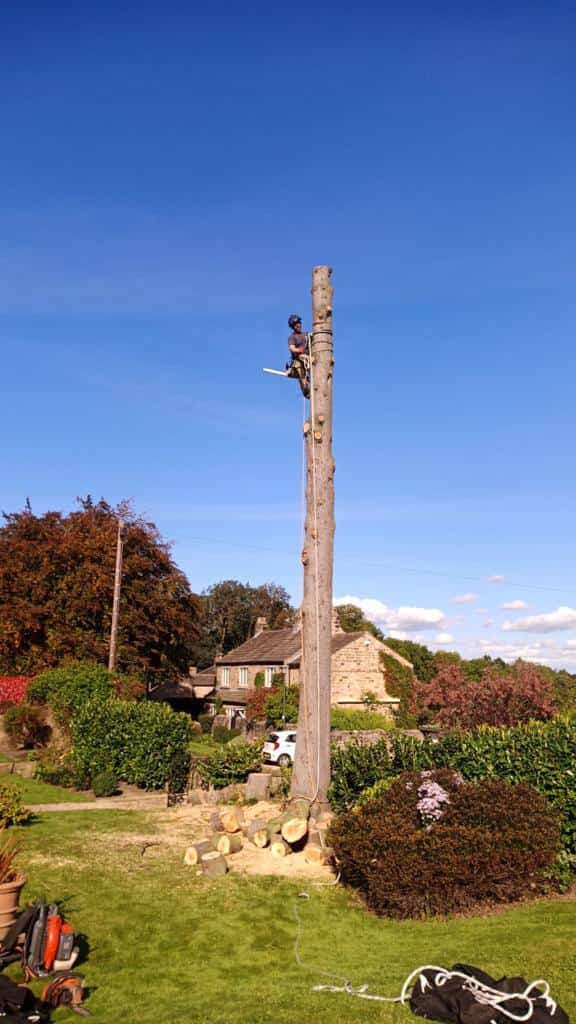 Our tree felling service is the perfect option if you have a tree that requires complete removal. Upon an initial site visit, we will discuss your requirements and assess the tree to ascertain the best action plan. Tree felling can be quite involved, but you can rest assured that The Tree Surgeon Harrogate has the skills and expertise required to get the job done efficiently and to the highest standard.
There are multiple reasons to remove a tree from its natural habitat, maybe:
The tree has become dangerous or is in poor condition.
It has become too large for its surroundings, and removal is the most sensible option.
A development project is being carried out, and the tree requires removal for site access.
Or any other reason.
Whatever the reason is, we can help. We can fell any tree, small or large, and we have all the necessary equipment and experience to ensure that it is removed quickly and efficiently.
Three main tree felling methods are used: direct cut, notch cut, and hinge cut.
The direct cut method is the most common and involves cutting the tree straight at a 45-degree angle.

The notch cut method involves making two cuts, a top-notch and a bottom cut. The top-notch is made first, followed by the bottom cut. This method is used when there is a danger of the tree falling on something, like a building.

The hinge cut method is used to control the direction the tree falls. A cut is made on the side of the tree where you want it to fall. This method is used when there are obstacles near the tree that you don't want it to fall on.
We will assess the best option depending on the tree size and surroundings. Once the tree is removed, if required, we can then also remove the stump using our professional stump grinding equipment, leaving you with a blank canvas.
We always provide the best tree-felling services in Harrogate and the surrounding areas, so please feel free to contact us and discuss how we can assist you with your project.
If your tree looks like it has become 'top heavy and is potentially carrying too much weight, tree crowning is a perfect solution. Before commencing any work, we will look at the tree's overall structure, and how it is growing, then we'll come up with the best method to thin and shape your tree as necessary. Doing this can prevent any issues from occurring in the future, such as the tree becoming damaged by adverse weather conditions, or branches snapping due to excess weight, etc. Tree crown reduction is a fantastic way to prevent future problems with your trees.
When deciding on the best way to crown a tree we will take into consideration the trees overall size, location, age, and purpose. As an example, a tree which is close to an over head power line will be crowned in a different manner from one with nothing surrounding it. Once we have work out what is the best method to ensure that the crowning work is completed most effectively, we will then commence work with a clear plan of action.
Crown reduction can be complex, but the team at The Tree Surgeon Harrogate has decades of experience ensuring that your tree is always taken care of most efficiently.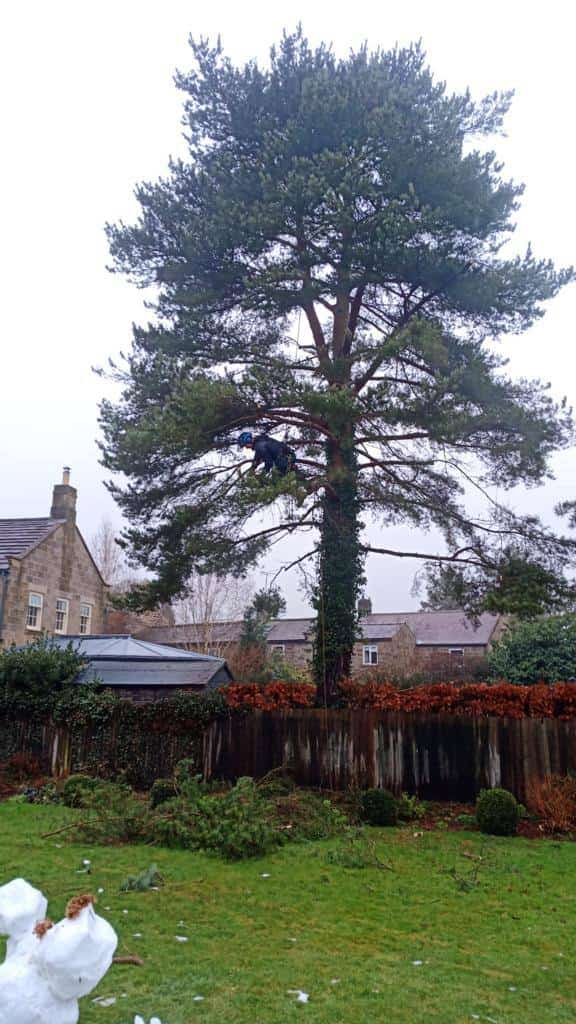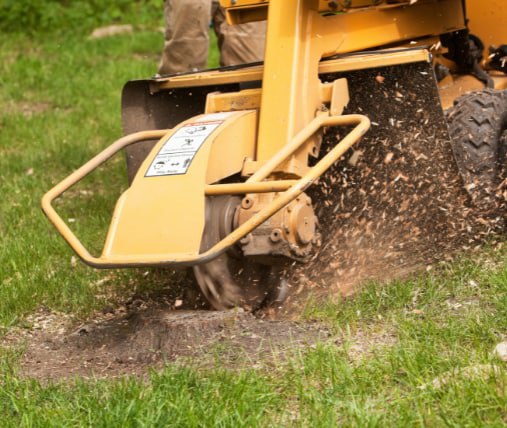 Stump grinding is a service we offer throughout North Rigton and the surrounding areas. If you have existing stumps from trees that have been felled and require them removed, then we can help. Stump removal is a perfect solution to ensure you are left with a clean surface. With our specialist machinery, you can be sure that those annoying tree stumps will be removed entirely.
Stump grinding is a natural way of removal and can usually be carried out relatively quickly without the need for chemical use or digging. It is also a fantastic way to be environmentally friendly as the stumps can be turned into wood chippings and reused.
At The Tree Surgeon Harrogate, we'd love to hear from you if you have a stump grinding project that you need taking care of. Please feel free to contact us anytime.
Regular hedge cutting is a wonderful way to ensure your garden is left looking clean and tidy.
Maintaining hedges regularly ensures they do not become an overgrown, tangled mess. At The Tree  Surgeon Harrogate we can take on all your hedge-cutting projects. With years of experience, you can be sure you will be left with a stunning-looking hedge that will enhance the curb appeal of your property.
Whether your hedge needs reduction, shaping or trimming, we will ensure it is taken care of and that the works carried out will cause the least disruption to the health of your hedges.
Please contact us to discuss your hedge cutting requirements and book a survey. We also offer ongoing maintenance if this is a service that you require.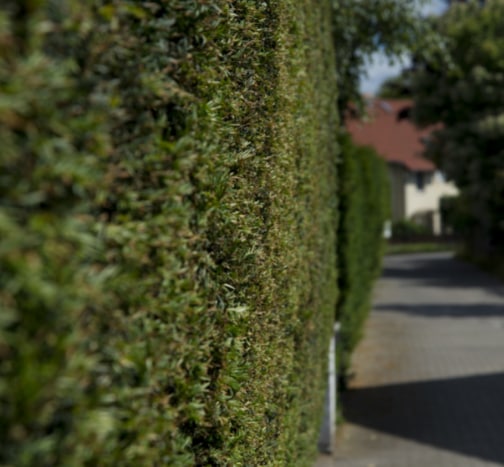 Available 'round the Clock
Need emergency Tree surgery? Call us anytime. We will always do our utmost to take care of your concerns, quickly and efficiently. From a fallen tree to hedge trimming we're here to help!
Satisfaction Guaranteed
You can rest assured that we won't leave your job until you are 100% happy. No matter how small your concern is, we will deal with it. Customer service is our main priority.
Free Consultations
We carry our free surveys for the works which you require. Call us today to arrange a site visit, and let us offer our professional advice, and make sure that your tree surgery needs are taken care of.
Tree Surgeon North Yorkshire FAQ's
What does a tree surgeon do?
Tree surgeons cut down trees, maintain them, and carry out general works relating to trees and shrubs to ensure their longevity and keep them in good condition.
When to get a tree surgeon
When a tree starts to show signs of distress, decay, branches falling off or generally becoming overgrown, that is the time to look for a quality tree surgeon to take care of your needs.
Can I remove a tree from my garden?
If a preservation order covers your tree, you will require your local authority's permission. Before starting any tree removal work always seek professional advice.
Can tree surgeons work in the rain?
As with anything, common sense needs to be taken into consideration. If the conditions we are presented with allow us to, then we will. If the job is urgent but safe to do, then we will. If, however, it is blowing a gale and there is any risk to human safety or potential damage to the surroundings, then we will reschedule.
What happens if you cut a tree down without permission?
This is an offense and can carry a hefty fine or even imprisonment. If you are unsure, get advice before even considering starting removal works.
Are there any risks associated with tree surgery?
There are many risks associated with tree surgery, but being aware of the dangers and minimising them as much as possible ensures that the risks are always kept as small as possible. We always follow best practices, so you can be sure that safety is paramount.
Does tree surgery harm the environment?
It is possible that tree surgery can have a negative impact on the environment if it is not carried out correctly. This is why it is essential to choose a tree surgeon like ourselves who is both experienced and qualified. Tree surgery should only be carried out by a company that is fully insured and has the necessary equipment and training to ensure your works are carried out professionally and safely.
It was an absolute please to meet Tom, from The The Tree Surgeon Harrogate, and I knew as soon as he started work that he was the man for the job. He took care of a massive oak tree that I had been meaning to have removed for years, and the service I offered was second to none. Thanks so much for the professional service. A+++ from me!
I am a property developer, and finding reliable tradesmen is a big struggle at times. A recent house which I purchased had a garden that had not been attended to for years, and Tom took on the task of clearing all necessary trees and shrubs leaving it looking amazing. Big thanks to you Tom, and I'll be in touch soon with the next project!!
Tree Removal
North Rigton
Hopefully, by now, you will see that we are a team of dedicated tree surgeons committed to providing a first-class service that you can depend on for all your needs. We really do take great pride in every job we undertake and believe in making sure our clients are our number one priority.
It is always our goal to be offering:
Transparent advice

Quality workmanship

Competitive, fair rates

A pleasant experience from start to finish for all of our clients.
Our objective is to become known as the best tree surgeons in North Rigton and the surrounding areas. We want to build lasting relationships with all our customers where they remember us for years to come and recommend us to their friends and family. Rest assured, we will go the extra mile to ensure your tree surgery requirements are given the highest priority.
No matter what service you need, please contact us today to discuss how we can serve you.
We work throughout North Rigton and the surrounding areas of North Yorkshire, including North Deighton. Maybe you found our site by searching for 'tree surgeon near me' or even 'tree surgery near me.' If so, then we almost certainly will cover your area too.
Check out things to do in Harrogate, for suggestions of things for you and your family and friends to enjoy.